Chaos V-Ray for Nuke

Powerful rendering for compositing artists
Quality
Top artists and studios use V-Ray every day to render world-class imagery and visual effects.
Power
V-Ray adds production-proven lighting, shading and rendering capabilities to Nuke's powerful compositing toolset.
Speed
Save time by making look development decisions on the fly, and output final frames faster by rendering directly in post.
Creative control
V-Ray for Nuke gives you full control over lighting, shadows, reflections and more – without any back and forth with 3D.
Smart integration
V-Ray fits seamlessy into Nuke's native, node-based workflow.
An industry standard
V-Ray's Academy Award winning ray traced renderer in Nuke's industry standard compositing application gives artists the best of both worlds.
Demo Project: Sci-Fi City by Shahin Toosi
Lighting – Part 1
Compositing artist Shahin Toosi shares how to get started quickly in V-Ray for Nuke and walks through the steps of layout and lighting for the Sci-fi City project.
Lighting – Part 2
Part 2 of the Lighting overview demonstrates setting up the Basic Holdout and Deep Renders in V-Ray for Nuke.
Materials
Learn how to develop the look of your materials in V-Ray for Nuke and how to bring in shaders from other V-Ray-enabled applications like 3ds Max, Modo and Maya.
Rendering
Discover how to get the most from your renders in V-Ray for Nuke, with tips to output through V-Ray Standalone.

WHAT'S NEW
V-Ray 5 for Nuke now compatible with Nuke 13.0
V-Ray 5 for Nuke brings you more control and efficiency in compositing, plus many workflow optimizations that save you time so you can maximize your creativity.
Light Path Expressions
For better control in compositing, construct your own render passes with Light Path Expressions. Output specific light contributions with time saving presets or write your own custom expressions that can be combined with Boolean operations.
New Sun and Sky Model
Bring golden hour lighting to a whole new level. The new Sun & Sky model is more accurate and looks better at sunrise and sunset, even as the sun dips below the horizon.
Coat & Sheen Layer
Easily create layered materials with reflective coatings and fabrics, such as velvet, satin and silk, directly in the V-Ray Material.
Metalness
Metalness reflections are now supported directly by the V-Ray Material making it fully compatible with PBR workflows.

KEY FEATURES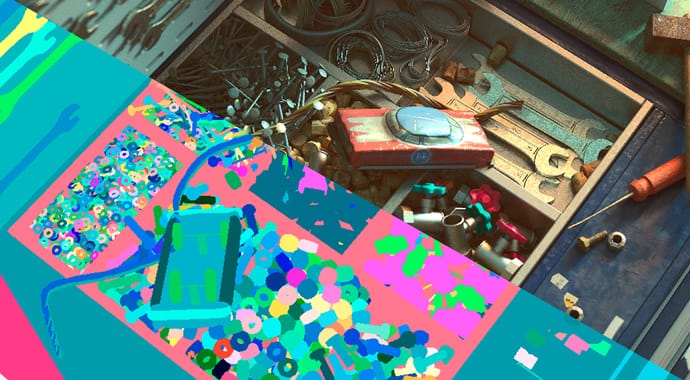 GPU Rendering
You can now take advantage of faster multi-GPU performance on workstations, plus added support for Cryptomatte render elements.
Powerful Ray Traced Rendering
V-Ray for Nuke brings powerful adaptive ray traced rendering to any compositing pipeline. It's the most full-featured rendering solution for Nuke, NukeX and Nuke Studio.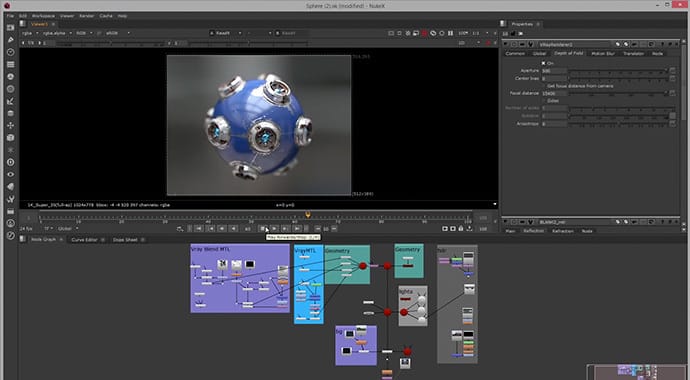 Node-based Integration
With a full suite of advanced rendering tools and support for Nuke's native features, V-Ray for Nuke is a natural evolution of the compositing workflow.
Accurate Lighting
Simulate realistic ray traced lighting and shadows with a wide range of light types including spot lights, area lights, HDR environments, Nuke lights and more.
Global Illumination
Render accurate indirect illumination with V-Ray's precise ray traced GI. Now with light cache support.
Physically-based Materials
Create multilayered physical materials directly in Nuke. Choose from purpose-built shaders for car paint, SSS, skin and more.
Production-ready Textures
Choose from a number of production-ready texture types including tiled EXR & TX files, layered textures, ambient occlusion and procedural noise.
Camera
Select from a variety of camera types including physical cameras, VR panoramas and Nuke projection cameras.
VR Cameras
Render to popular VR formats including spherical and cubic 6×1 panoramas.
Geometry
Import Alembic, FBX and OBJ geometry with Nuke's built-in ReadGeo node.
V-Ray Scene Assets
Extract and reuse individual objects from a V-Ray Scene (.vrscene) file. If you need more control, you can define a set of objects to generate a reusable and customizable VRayScene asset.
Proxy Objects
Import and render memory-efficient proxy objects as Alembic or V-Ray mesh files.
Instancing with Particles
Instance V-Ray proxy objects using Nuke particles.
V-Ray Volume Grid
Import and render volume simulations from applications like Houdini. Supports OpenVDB, Field3D and Phoenix FD files.
Progressive Rendering
Fine-tune the look of your renders faster than ever. As you make adjustments to your scene, your rendering will update automatically.
Deep Rendering
Improved deep rendering capabilities with support for deep volumes. Save disk space by generating deep data directly inside Nuke.
Render Elements
Generate beauty, matte and utility passes on the fly. V-Ray for Nuke includes more than 37 built-in render elements for ultimate control.
Full Light Select Render Element
Render individual or groups of lights as separate render elements, and accurately light mix in post with full support for global illumination, reflections and refractions.
Cryptomatte
Automatically generate ID mattes with support for transparency, depth of field and motion blur, speeding up workflows for compositors.
V-Ray Scene node
Import and render animated V-Ray scene (.vrscene) files.
V-Ray Translator Node
Use the full power of V-Ray Standalone, including distributed rendering.
V-Ray Denoiser
Automatically reduce noise for cleaner renders. Denoise individual render elements, apply noise masks and denoise final deep composites.
Hair Workflows
Render complete 3D creatures and characters directly in Nuke. Import hair geometry using V-Ray proxy objects, and assign V-Ray Hair material for optimized shading.

(official website : Chaos Software EOOD)