AJA Ki Pro Family

AJA Ki Pro models are file-based recording and playback devices that create high-quality files on computer-friendly media. You can encode to Apple ProRes, Avid DNxHD, DNxHR, or H.264. With extensive video and audio connectivity from analog component to 12G, 3G-SDI, HDMI 2.0 and optional Fiber SFP modules, you can interface with virtually any type of camera, router, switcher or display. Via industry standard codecs and connections, pass on your captured files for on-set, postproduction, OTT and more. All Ki Pros are intuitive to operate, with familiar VTR-like buttons and a clear, easy-to-understand user interface, and a powerful web-browser based UI available on all models.
With six models available, AJA offers a Ki Pro that best suits your workflow requirements.
Digital Recorders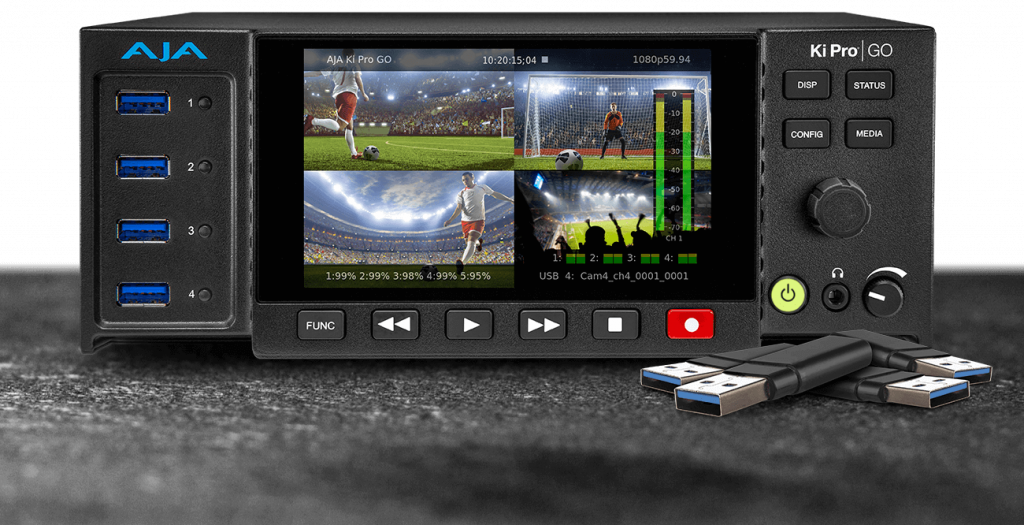 Ki Pro Family Comparison Chart
Ki Pros offer a range of functionality, form factors, connectivity choices, raster support from SD to 4K and codec choices from H.264, Apple ProRes, Avid DNxHR and DNxHD to pick from.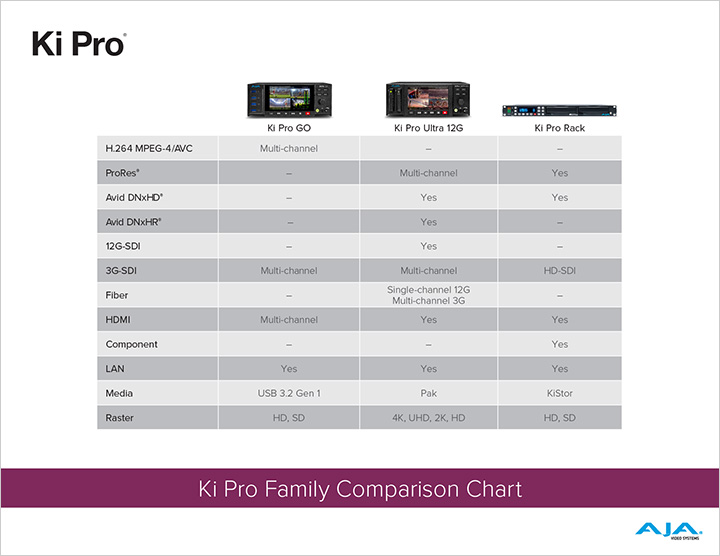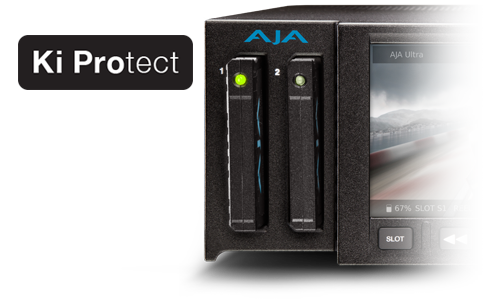 Ki Protect
The majority of Ki Pros offer Ki Protect, a feature that helps ensure data integrity if a media drive is accidentally removed or loses power during recording. The Ki Protect feature automatically pre-allocates recording space on the media drive for video, audio and timecode when the record button is pressed.
While recording, the file header is then continuously updated every time new data is written. That way, the only loss that should be incurred is the last few frames that were in transit to the media drive when the operation was interrupted. Frames that are already recorded will be preserved, providing greater peace-of-mind on-set and in the studio.
Remote Configuration and Operation
Ki Pro products can be remotely controlled from anywhere using a web browser on any OS with their built in webserver. Multiple Ki Pro Ultra Plus, Ki Pro Ultra or Ki Pro GO units can even be controlled from a single web browser interface making them an ideal solution for multi-camera recordings. Most Ki Pros also offer a standard RS-422 port for direct connectivity to RS-422 controllers.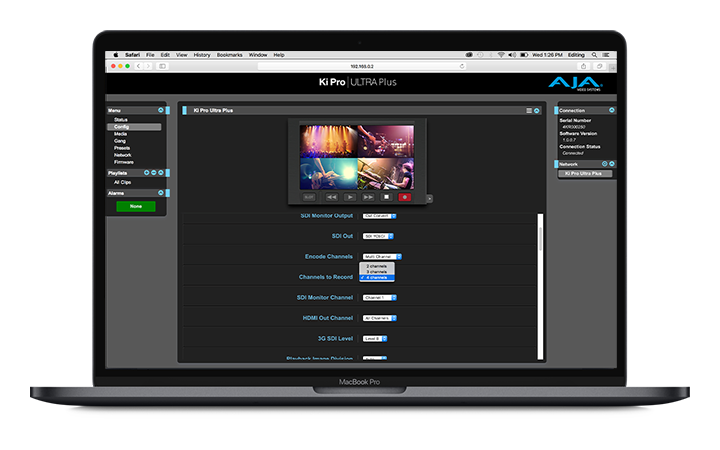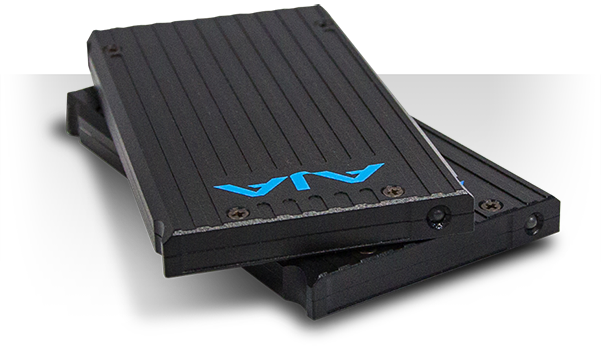 Reliable Storage Media
Capture directly to rugged and reliable AJA PAK SSD media with Ki Pro Ultra Plus and Ki Pro Ultra. Ki Stor SSD is the media for HDD for the Ki Pro Rack PAK and Ki Stor Media; as well as their corresponding Docks for computer transfer are available from AJA resellers in a variety of capacities to best suit the demands of your production. Widely available standard USB media is used for Ki Pro GO.
AJA DataCalc
AJA DataCalc is a mobile OS application for iOS, iPadOS and Android, offering two modes for storage and time calculations based upon raster, frame rate and codec choices.
DataCalc – Calculate your storage needs before capture.
TimeCalc – Calculate the run time of materials you can capture by storage size.
Share results with your team straight from the application.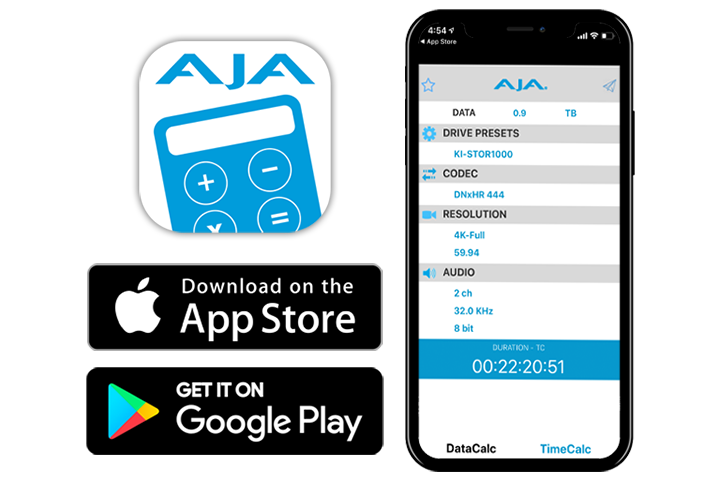 (Official website : AJA Video Systems, Inc.)