AJA KONA Family

KONA cards support the broadest range of creative software for editorial, color, mastering, HDR, dailies, live streaming, graphics, game capture and much more. KONA provides powerful I/O solutions for the most demanding tasks from 8K to 4K, Multi-Channel HD, HDR, and Streaming.
KONA has incredibly wide application compatibility. Out-of-the-box, your AJA hardware and software supports Adobe Premiere Pro, Apple Final Cut Pro, Avid Media Composer, OBS Studio, vMix, Telestream Wirecast and many more, via AJA's Desktop software drivers and application plug-ins. Pick your application of choice and KONA connects it to your world.

Desktop I/O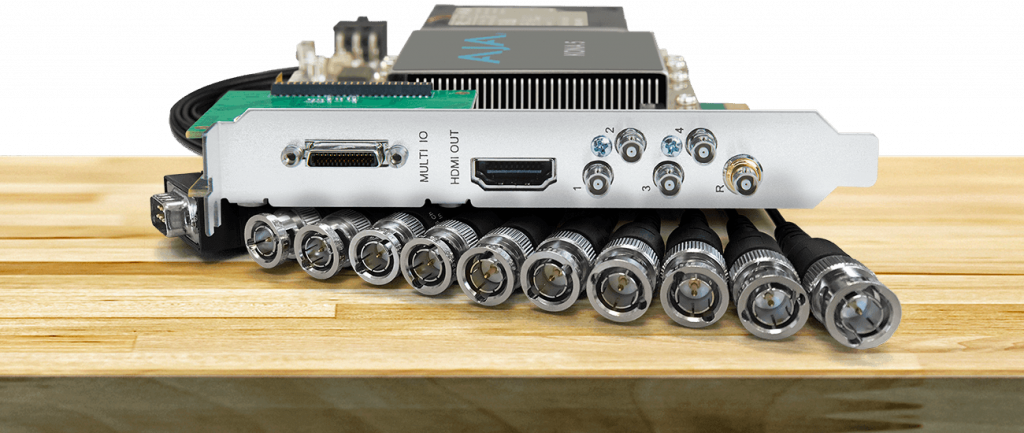 Connectivity

Optional Breakout Boxes Available
All KONA cards feature on-board connectivity, allowing you to use the card without breakout cables or breakout boxes. KONA cards feature an included breakout cable, with an optional breakout box available on most models. From 12G-SDI and HDMI 2.0 to AES, Analog and RS-422 connectivity, KONA has you covered.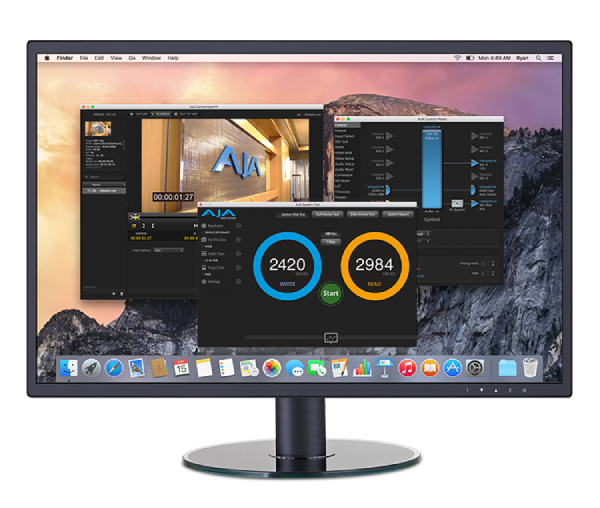 Software Compatibility
AJA KONA products are widely supported across the industry by leading third party software and solution vendors. AJA also provides industry-best application plug-ins and OS drivers.
New Apple M1 Chip Support
Desktop Software v16.1 and above is optimized for the new Apple M1 chip with native support for AJA macOS drivers, application plug-ins, AJA Control Room, AJA Control Panel, and AJA System Test.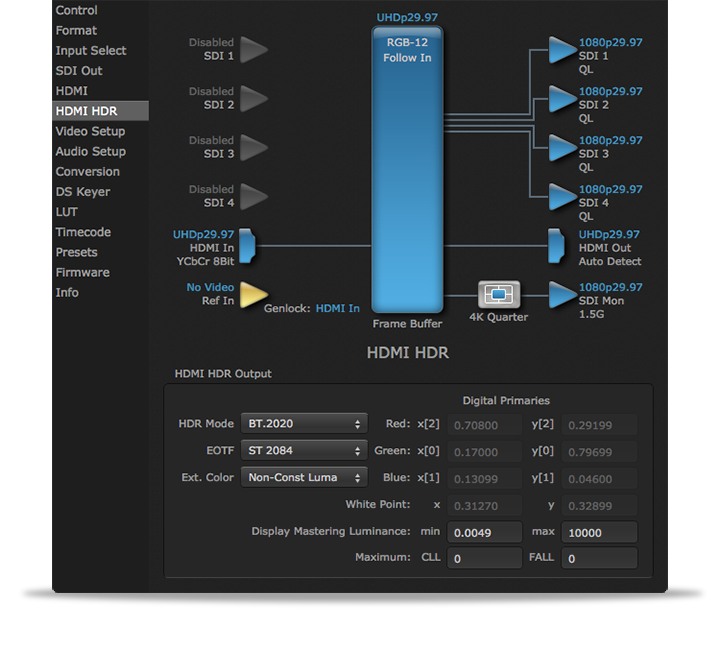 AJA Control Panel
AJA's free Desktop Software for KONA includes AJA Control Panel, a powerful and elegant UI for interfacing with your chosen hardware.

Control Panel provides an easy to understand visual showing how the KONA hardware is currently configured and allows you to make changes. You can change signal input and output parameters and define the video processing that will be performed. The AJA software installer automatically installs the Control Panel application on your computer and once opened AJA Control Panel recognizes the connected hardware and provides configuration and settings options appropriate to it's capabilities.

Other powerful features include; Huge flexibility across ingest/output for 8K/UltraHD2*, 4K/UltraHD, 2K/HD and SD, HDR Test patterns, HDR pass-through and signaling, 12-bit pipeline**, up to 12-bit LUT capabilities***, Timecode insertion from source or time-of-day and much more.

*8K/UltraHD2 supported via KONA 5 PCIe card.
**/*** Requires KONA 5 PCIe card.
AJA Control Room
AJA Control Room is unified cross-platform professional media software for macOS, Windows and Linux, enabling 8K/4K/HD/SD workflows in numerous powerful ways.

AJA Control Room can be used as a stand-alone media player with full-screen playback and host system audio monitoring, or used in conjunction with AJA hardware devices, supporting input, output and monitoring for high quality professional media file types and formats including uncompressed, DNxHD/R, ProRes, H.265, and H.264. The Deep Buffers feature supports sustained playback /capture functionality designed to be immune to temporary interruptions to storage connectivity. Whether you're using files on a network, live feeds, NDI or even tape, experience the same smooth interface on macOS®, Windows® or Linux®.

AJA Control Room also includes cross platform support for the entire Apple ProRes family of codecs on Windows, Linux, and macOS, and adds native 8K support when used with the AJA KONA 5.

AJA Control Room comes bundled free as part of AJA's desktop software for KONA®, Io® and T-TAP Pro®. Installing the Desktop Software package will automatically install AJA Control Room.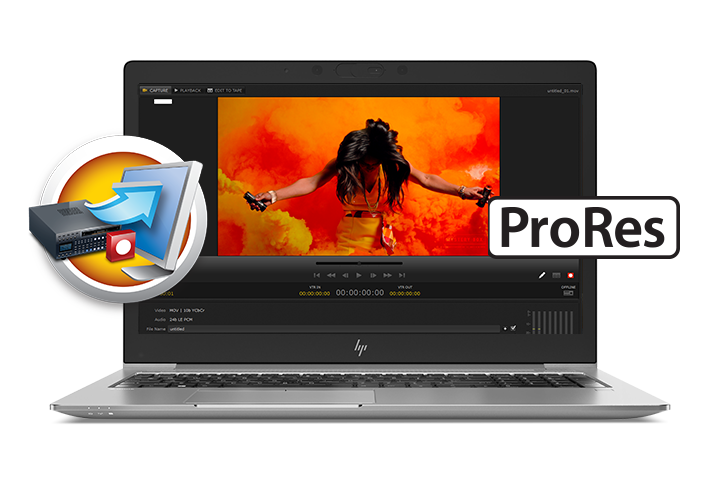 KONA for PC Supported System Configurations
The AJA support and engineering team recommend only Enterprise Class Workstations. The slot placement is based on an engineering analysis of the motherboard for performance and available bandwidth. These are the required 4K/UltraHD/2K/HD workflow configurations for the KONA product line.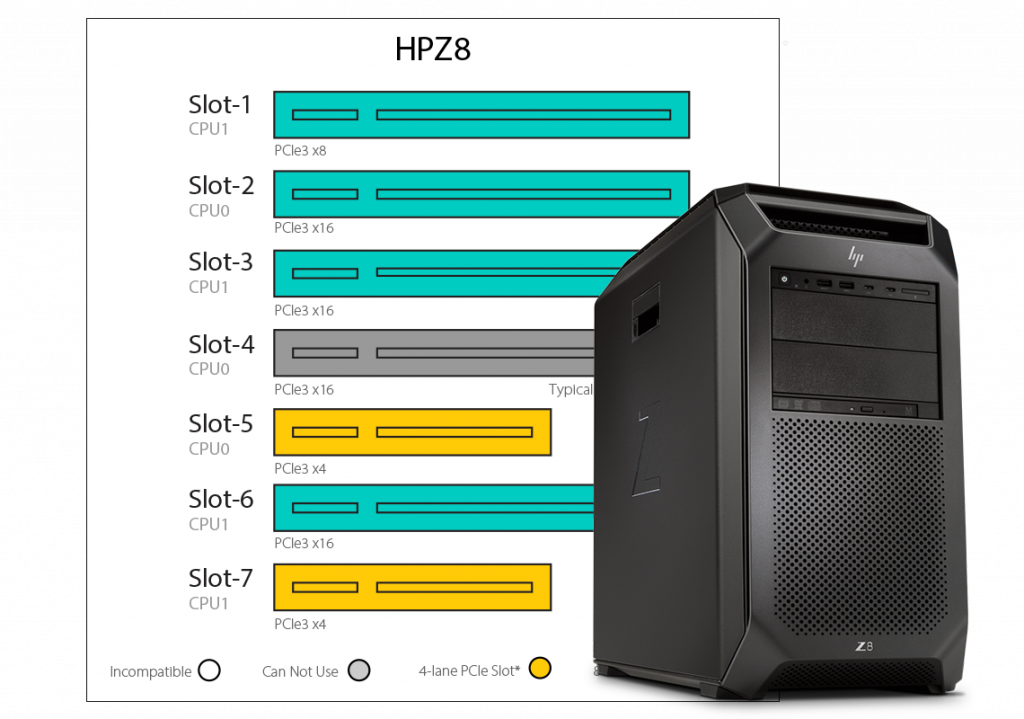 AJA DataCalc
AJA DataCalc is a mobile OS application for iOS, iPadOS and Android, offering two modes for storage and time calculations based upon raster, frame rate and codec choices.

DataCalc – Calculate your storage needs before capture.

TimeCalc – Calculate the run time of materials you can capture by storage size.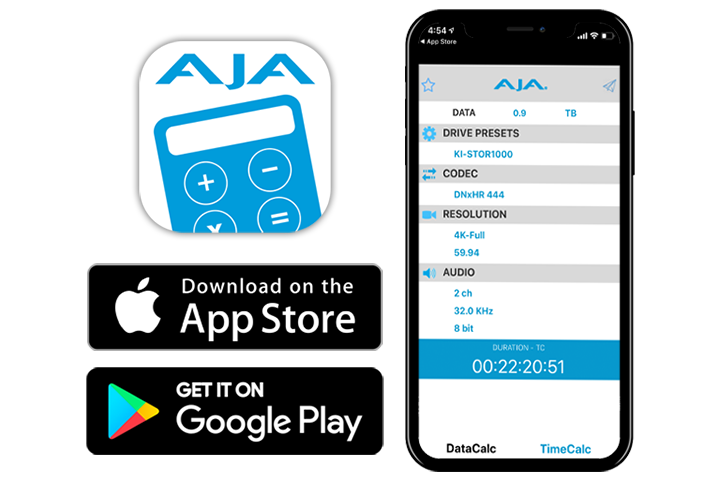 (Official website : AJA Video Systems, Inc.)