Chaos V-Ray for Rhino
Real-time and photoreal rendering in one
The all-in-one visualization solution
for Rhino and Grasshopper
V-Ray® for Rhino is a 3D rendering software that combines real-time and photoreal rendering into one complete suite of visualization tools. From architecture to product design, it's everything you need to bring your next design project to life.
Visualize in real-time
New in V-Ray 5, V-Ray Vision gives you a live real-time view as you build your model, apply materials, and light your Rhino and Grasshopper designs. Now you can visualize any project in real-time while you design. You can also package your V-Ray Vision result for others to experience just like you did in Rhino.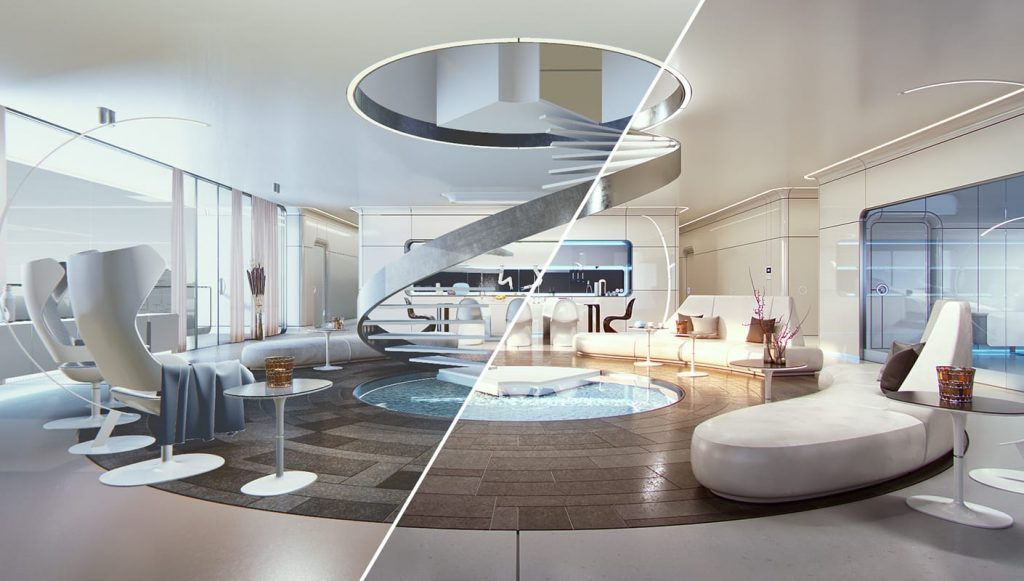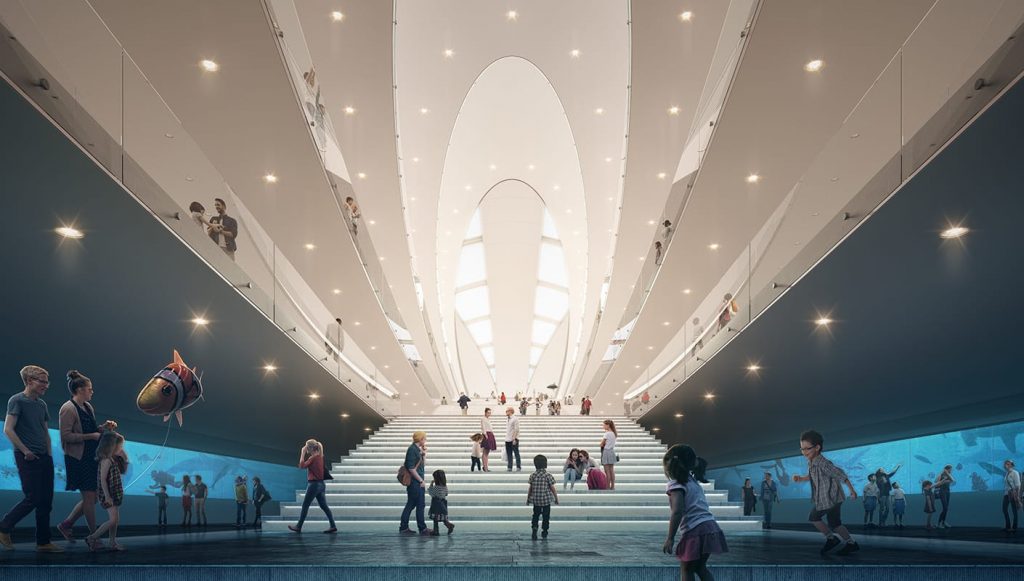 Turn your vision into reality
With photorealistic lights, cameras, and materials, Rhino rendering with V-Ray is as real as it gets. Communicate and collaborate with confidence, knowing that your designs look just right.
Elevate your designs
Choose from a collection of smart assets — including high-quality models of plants, people, vehicles and furniture — and give your project real-world context. The all-new Chaos® Cosmos asset browser lets you easily place render-ready 3D content right into your Rhino scene.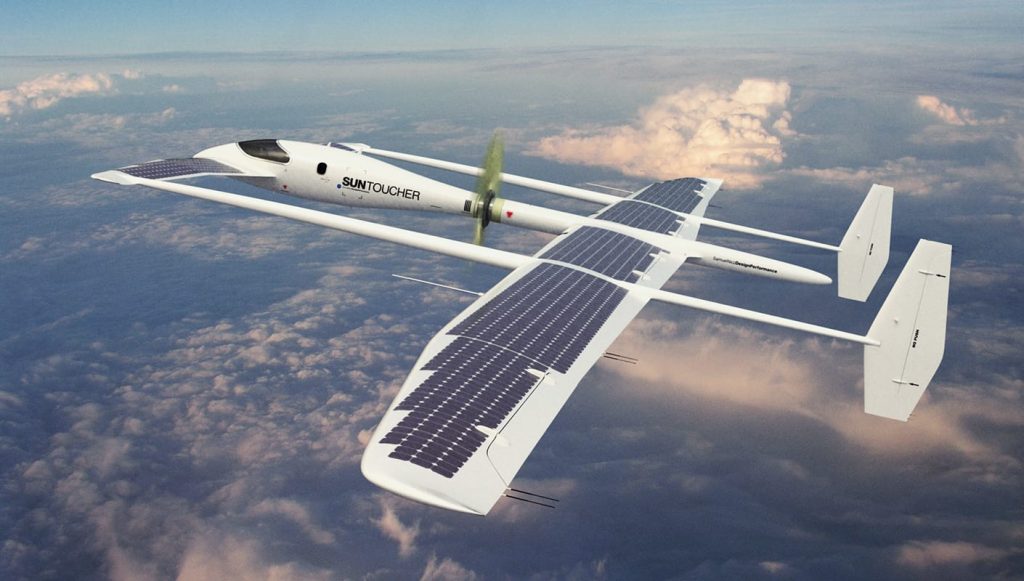 Go beyond rendering
Introducing all-new tools that let you fine-tune and finish your renders without needing an extra app. Composite render layers, make color corrections, and instantly adjust lighting in the new V-Ray Frame Buffer.
Seamless Grasshopper integration
Visualize your parametric designs on the fly. V-Ray for Grasshopper comes with V-Ray for Rhino and includes a collection of nodes to support V-Ray geometry, lighting, materials, rendering, and animation.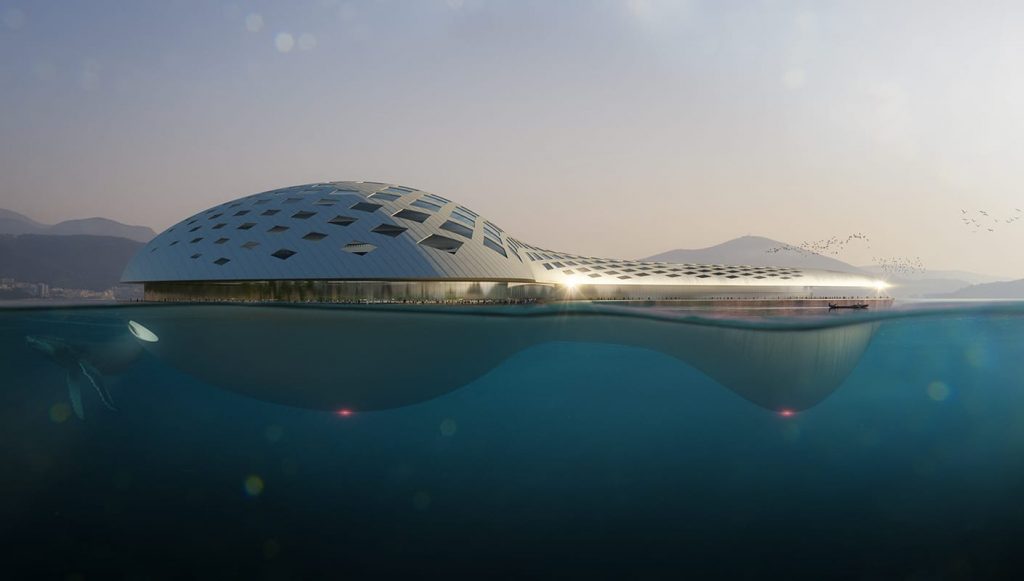 WHAT'S NEW
Introducing V-Ray 5 for Rhino, update 2
V-Ray® 5 for Rhino, Update 2 packs new tools for you to build designs more effectively, as well as new ways to create stakeholder presentations and engage them. Build detailed scenes without worrying about performance with the new scattering tool. Add stickers or markings to any surface with the V-Ray Decal. Use V-Ray Vision to share your designs through animations or even interactive 3D apps. Plus, take advantage of a number of powerful additions to V-Ray for Grasshopper like Scatter, Chaos Cosmos, IES lights components, and more.
New workflows, more creative possibilities
Scatter
Quickly create realistic terrain for your models with the new scattering tool. Easily add hundreds, thousands or even millions of Chaos Cosmos models and objects to any surface without worrying about memory resources—then edit their density, size, and orientation for complete control.
Chaos Vantage Live Link
Now, you can navigate your most complicated scenes in pure ray-traced real-time without any setup. Explore your model's true materials and lighting, and easily output animations and images.
Chaos Cosmos materials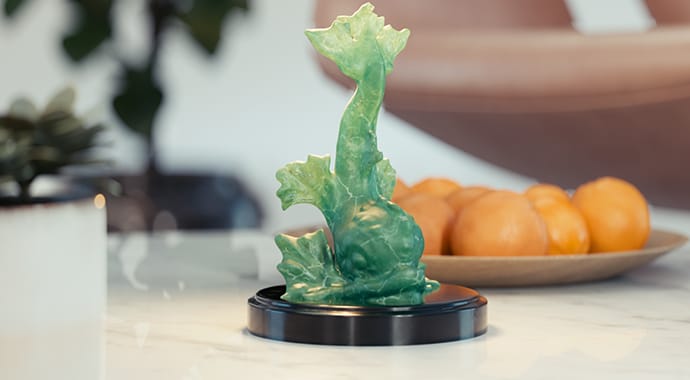 V-Ray Material improvements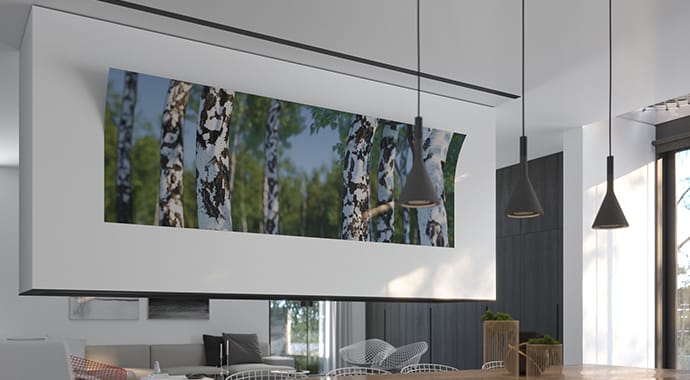 Decals
More artistic control in post
Add a photographic touch when polishing your final renders with sharpen and blur in the V-Ray Frame Buffer.
New capabilities in V-Ray Vision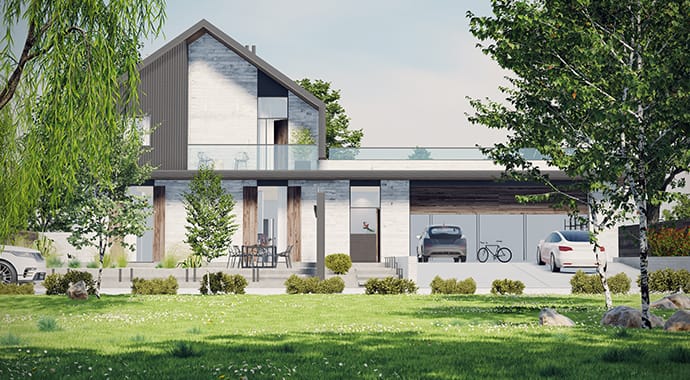 Share your scene with reviewers
Now you can share your scene with others to experience in real-time 3D on their own machine without the need for any additional software or license. Just hit export and reviewers can experience your full scene, with the full functionality of V-Ray Vision including navigation controls, color correction parameters, and more.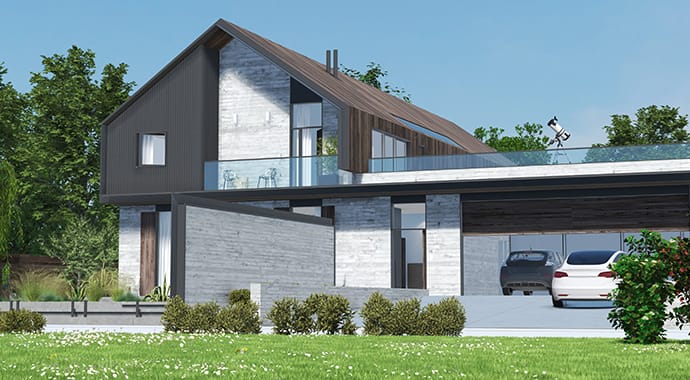 Еxport video recordings
Take the pain out of creating animations. You can now save Vision animations in a WebM format instead of manually combining images.
Sun animation support
Review lighting studies quickly and easily by loading sun animations from Rhino into Vision.
Grass support
Build realistic terrain efficiently with preset grass on any surface.
IES lights support
Vision presentations are now more realistic with IES light profiles.
New capabilities in V-Ray for Grasshopper
Streamlined object scattering
The new Scatter component gives you a simplified scattering workflow with all essential scattering and randomization parameters inside a single node.
Cosmos inside Grasshopper
A fully functional Content Browser component lets you insert and manage smart V-Ray content without leaving Grasshopper.
Ray traced real-time
Send your definition directly to Chaos Vantage via the updated Live Link node and explore your design interactively with true-to-life lights, cameras, and materials.
Full V-Ray Lights support
IES Light, Spot Light and Omni Light nodes are added, so you can use your favorite light sources without restriction.
KEY FEATURES
Rendering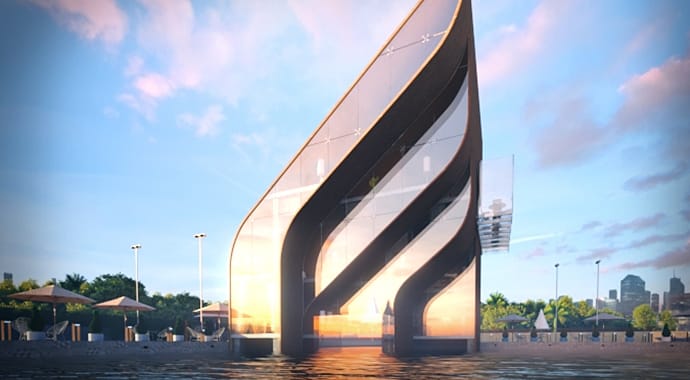 CPU, GPU & Hybrid rendering
V-Ray comes with two powerful rendering engines. You can choose between super-fast GPU and CPU or Hybrid rendering to best suit your project needs and requirements.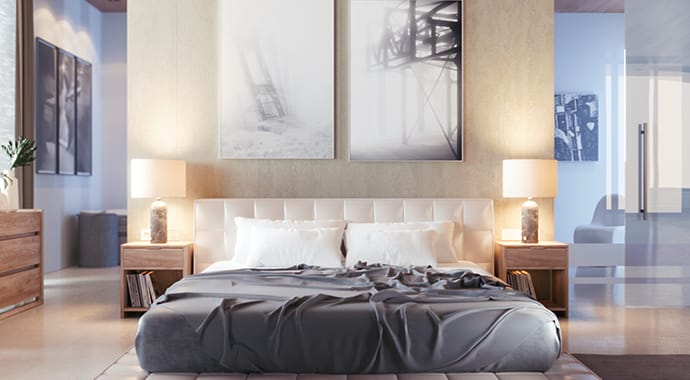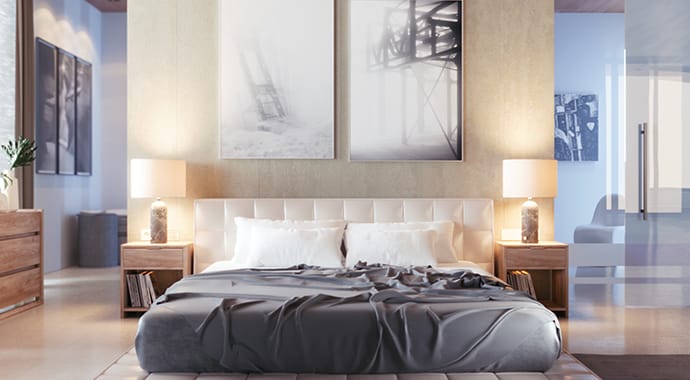 Smart 3D assets
Our integrated asset library, Chaos Cosmos, enables you to search and add render-ready objects, materials and HDRI skies to your scene directly from the V-Ray toolbar. Cosmos assets have automatic LODs, accurate scale and can be used across Rhino, 3ds Max, SketchUp, and Revit.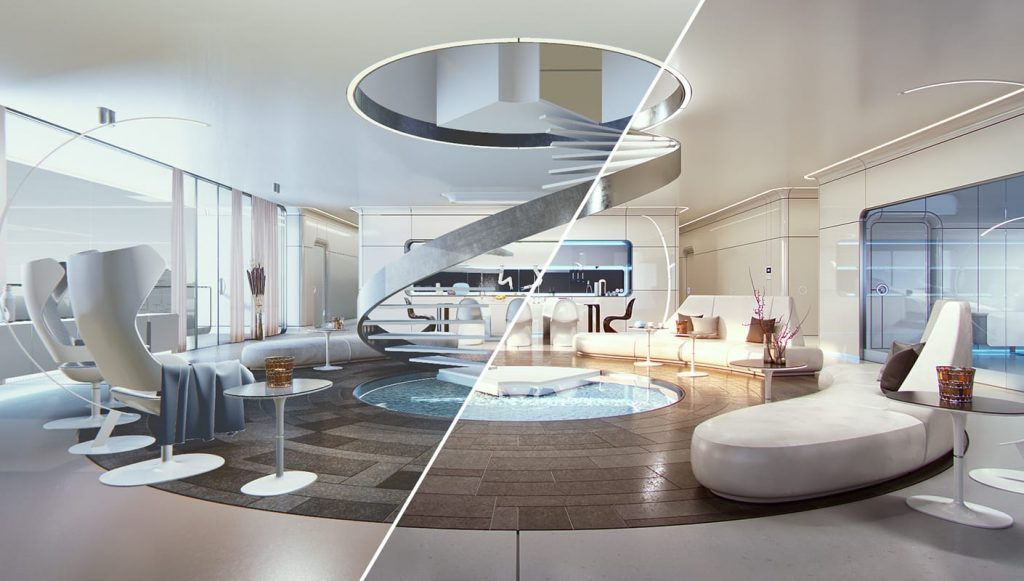 Real-time rendering
V-Ray® Vision gives the power to design and refine in real-time to anyone working in Rhino or Grasshopper. You can explore a real-time view of your scene, set up lights and cameras, and apply materials. Alternatively, you can take your design to the next level by using Chaos Vantage Live Link and exploring even the most complex scene in pure ray traced real-time.
Denoiser
Remove noise and dramatically cut render times. Use the V-Ray Denoiser to denoise each render element in post-production. The NVIDIA AI Denoiser and Intel Open Image Denoise deliver instant noise-free feedback in V-Ray IPR.
Interactive rendering
Render while you design. See results right away as you adjust lights, materials and cameras. You could also look at the denoised image while rendering in the Rhino viewport.
Render Elements
Render separate layers for more artistic control in image-editing software.
V-Ray Swarm
Render with maximum power using V-Ray's new simple and scalable distributed rendering.
Animations
V-Ray for Rhino enables light studies, turntables and fly-through animations rendering and an optimal way.
Line rendering
Apply contours to your entire scene or to a separate shader with a single click. Intuitively tweek controls to get the desired appearance.
Chaos Cloud
Rendering on the Cloud is just one click away.
Automating snapshots & batch renders
V-Ray Batch makes it easy to render snapshots from the same project or views from multiple Rhino files all at once.
Viewport rendering
An overlay on top of Rhino's viewport. It is rendered interactively and if scene changes are made, updates the rendered result.
---
V-Ray for Grasshopper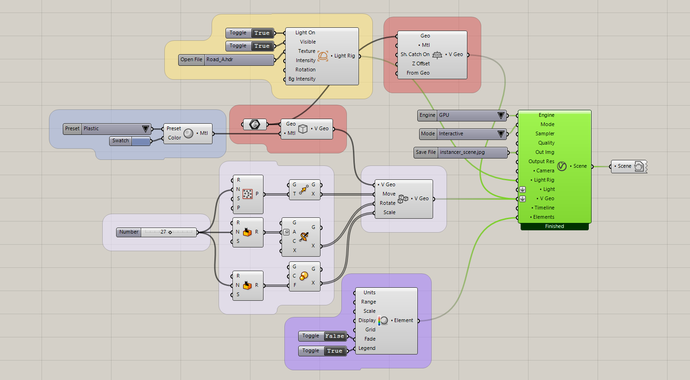 Straightforward workflow. Power functionality
Visualize within the environment you use to model. Use the node system to utilize V-Ray's powerful functionalities through five Node groups and their components.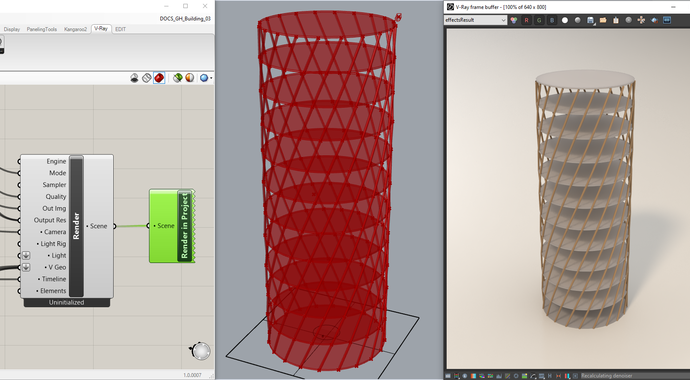 Forget baking
Render generative geometry directly in Grasshopper. Work uninterrupted without the need to bake your designs in Rhino as you iterate.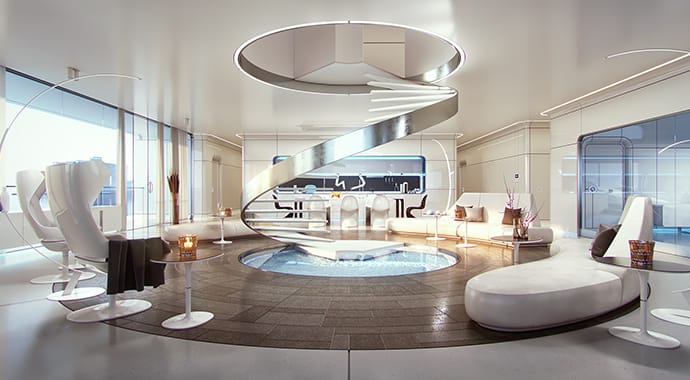 Real-time rendering
Add the Live Link component and watch your design update in real-time. Launch Vision for real-time visualization while you model inside Grasshopper. Send your most complex projects to Chaos Vantage for previz in pure ray-traced real-time.
Cosmos inside Grasshopper
Add render-ready 3D content directly inside your definition. The Cosmos component lets you import and manage a vast and ever-increasing array of 3D models, materials, and HDR images.
Customizable materials
Start with the basic preset V-Ray material and modify it form the node or with the Asset Editor. Alternatively, use your own materials from previous projects or just employ the vast material library directly.
Customizable lighting
Utilize V-Ray lights and customize them to move from realistic to stylized. Easily add numerous light sources to find your models' best appearance.
Animations
Create, render and export animation sequences right in Grasshopper. Animate the movement of the sun or the camera by employing the V-Ray Graph and Timeline components.
Lighting analysis
Perform a light intensity evaluation of your project and visualize the results on your render.
Scattering
Create a realistically distributed entourage in Grasshopper that materializes in Rhino only after you're started rendering.
Cameras
Use the V-Ray Camera component to simulate physical camera settings like aperture, shutter speed and ISO. Take advantage of Orthographic or Stereo camera parameters to facilitate your workflow.
Clipper
Render cross sections or fast cutaways right in Grasshopper. Convert custom meshes to clippers for render time Boolean effects.
---
Lighting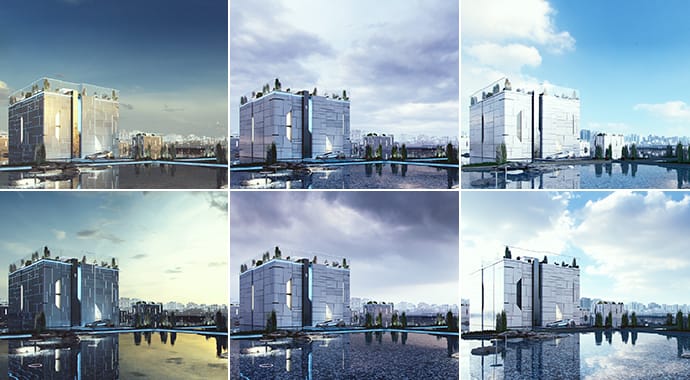 Light Gen
Explore the best lighting for your scene without the need for manual setup. Automatically generate hundreds of natural light versions for your exterior or interior.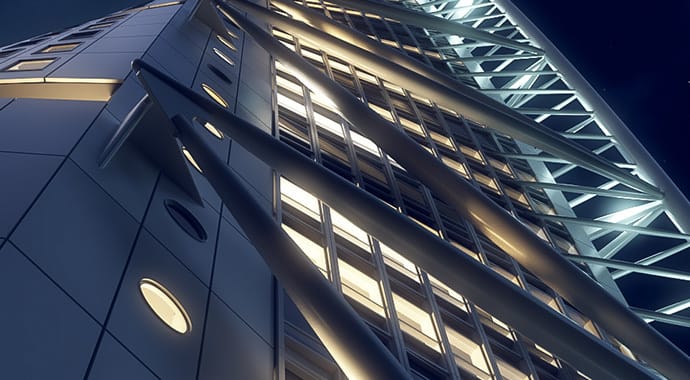 Light instances
Lights can be instanced and controlled as a single light in the Asset Editor.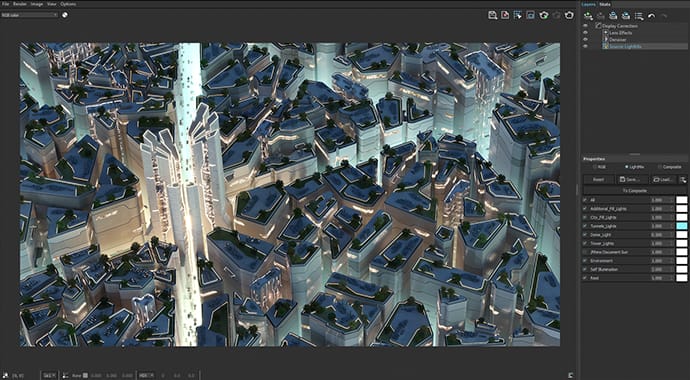 Light mixing
Easily fine-tune any light source in your scene after you're done rendering. Group them, adjust their brightness and color, and create your best presentation.
Global Illumination
Render realistic rooms and interiors with V-Ray's powerful and fast global illumination.
Accurate lights
Render natural and artificial lighting with a wide range of built-in light types. Adaptive Lights mode helps you substantially speed up render times in scenes with many light sources.
Image based lighting
Light your scenes with a single high-dynamic-range image (HDRI) to render faster, cleaner and more accurate image-based lighting. Use the Adaptive Dome Light and remove the need to set up Portal lights for interiors.
Sun & Sky
Render realistic daylight for any time and any location. Visualize stunning sunsets and sunrises, and control the sun's position for maximum artistic effect.
Lighting analysis tool
This tool makes it easy to to visualize the real-world illumination (Lux) values of any scene.
---
UI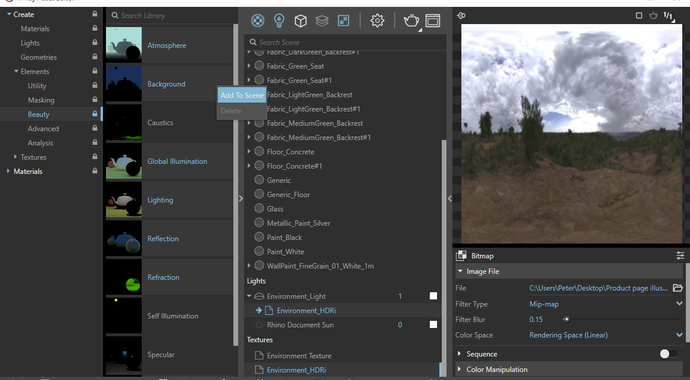 Smart Asset Editor
Create, edit and manage all of your assets including lights, materials, textures, geometry and render elements all in one place. All assets are structured in an intuitive folder structure.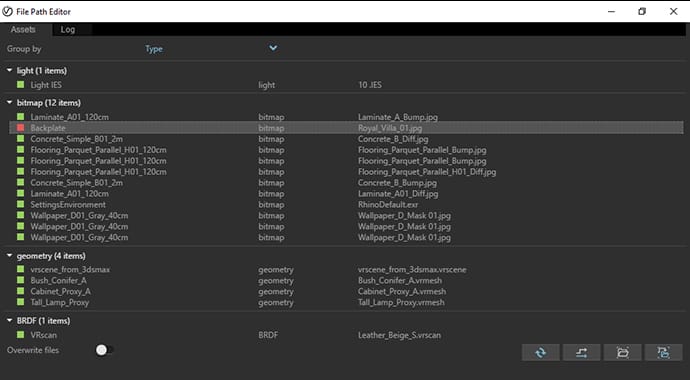 File Manager
Manage all of your scene files in one place. Set file paths, create scene archives, and keep track of assets like textures, IES files, and proxy objects.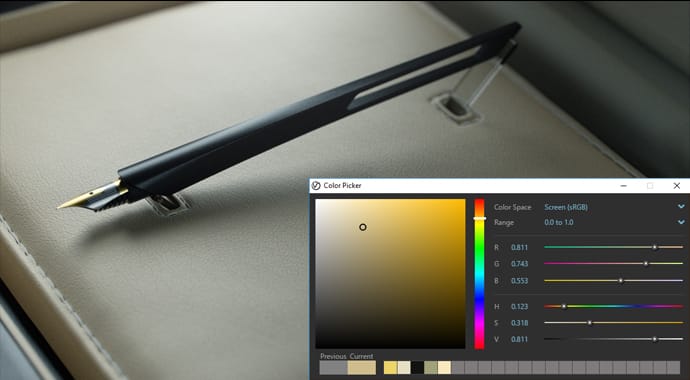 Color picker
A powerful color picker, which provides RGB color values and a corresponding Kelvin temperature slider, allows you to save and modify temperature values for every color slot.
Frame Buffer
Completely redesigned Frame Buffer upgraded to intuitively handle post-processing tasks like color corrections and compositing among other improvements.
Accurate viewport previews
Get an accurate preview of your materials in the Rhino viewport with improved reflections, refractions, bump maps and more.
Power up with scripts
Use RhinoScript and Python to program V-Ray Next to do even more for you, like automating scene management or accessing parameters not shown in the UI.
Universal asset preview
Preview your materials, lights, textures and render elements in a single viewer. Observe how parameter changes affect the appearance of the asset in a specific isolated setting.
Texture instancing
Map multiple material parameters with the same source texture to simplify the shader structure and management.
---
Camera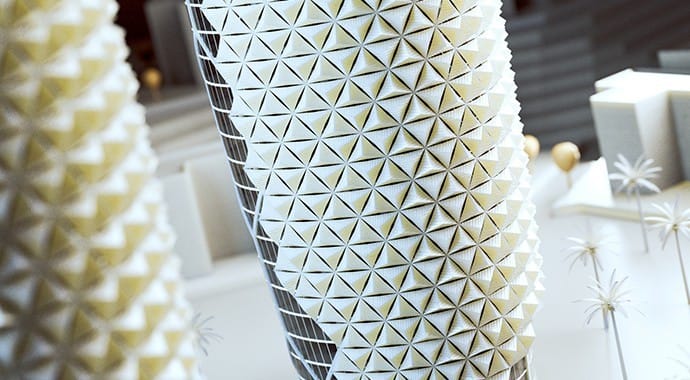 Real-world cameras
Work like a photographer with controls for exposure, white balance and depth of field.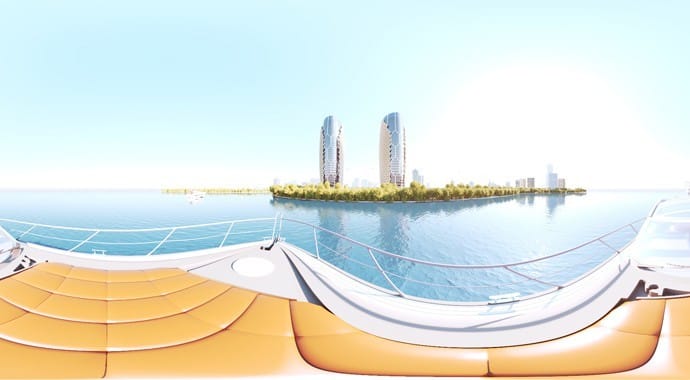 Virtual Reality
Render VR content for popular virtual reality headsets.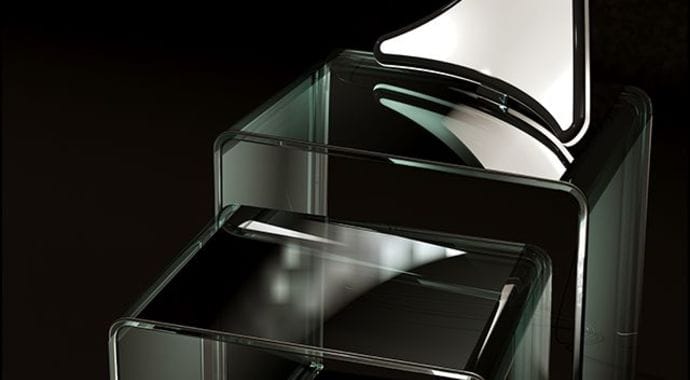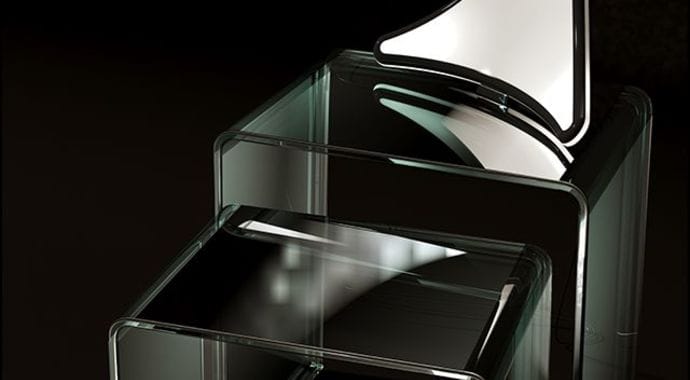 Interactive lens effect
Instantly add GPU-accelerated glare, bloom and procedurally generated dust and scratches for added photorealism. Fine-tune lens effects interactively while you render.
Automatic exposure & white balance
Capture the perfect exposure every time. The new Auto Exposure and Auto White Balance camera controls make rendering as simple as point and shoot.
---
Materials & textures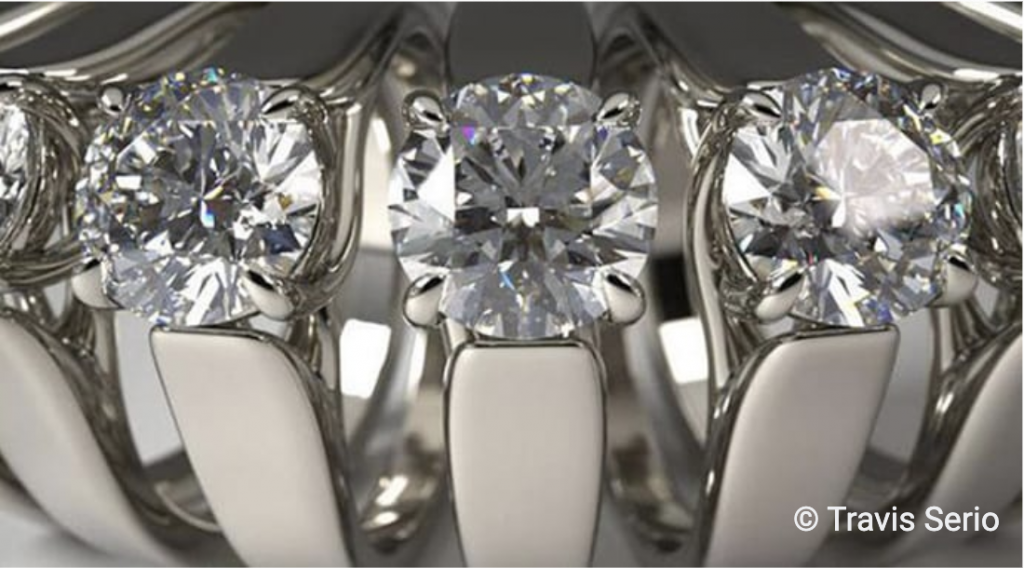 Physical materials
Create great looking materials that look exactly like the real thing.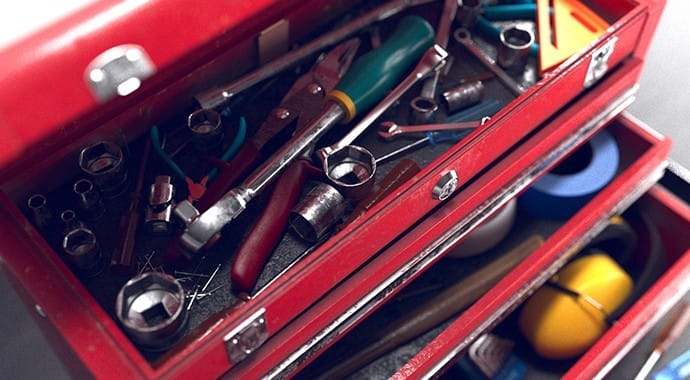 Procedural textures
Texture NURBS models with ease with a rich set of procedurals that don't requre UV unwrapping.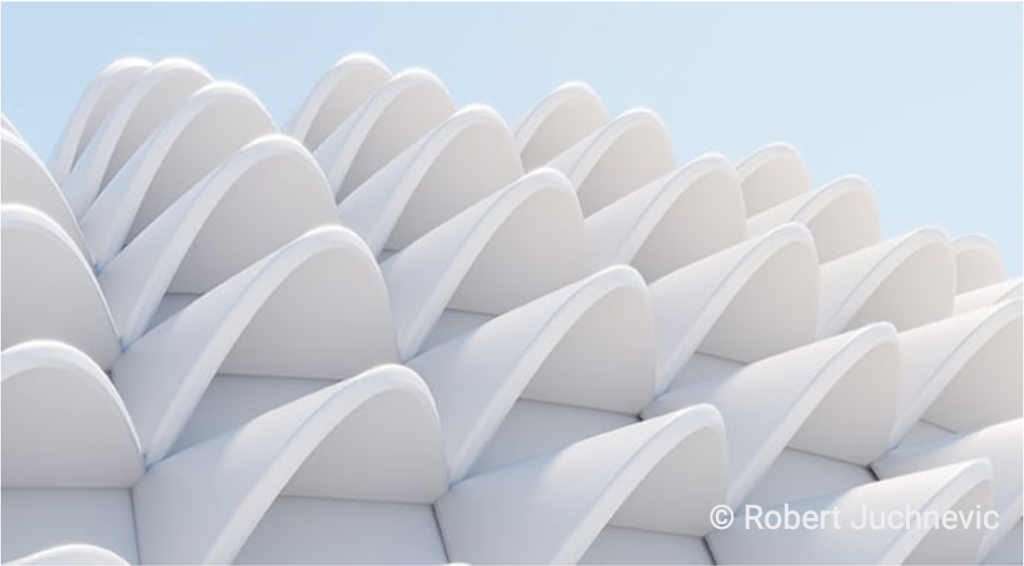 Native materials support
Render an enhanced version of your Rhino materials without converting them to V-Ray shaders.
Material library
Download on demand a vast array of high resolution materials. Simply drag and drop to bring realistic textures to your models instantly.
Material Metalness
The V-Ray Material adds native support for metallic reflections (Metalness) for greater compatibility with PBR materials from applications like Substance Designer.
Material Coat
Add reflective coating to your material to achieve effects like varnished wood or metallic paint.
Material Sheen
Create realistic soft fabrics like velvet, silk or satin.
Randomizer
With the new UVW Placement randomization options, texture coordinates can be randomized to fix patterns and achieve realistic materials.
Weathering and dirt
Quickly add dirt, control its spread amount and position on the surface of your design.
Decals
Project unique materials onto objects of any shape and create effects like graffiti on a wall, markings on a road, or logos on a product.
---
Atmospheric & volumetric effects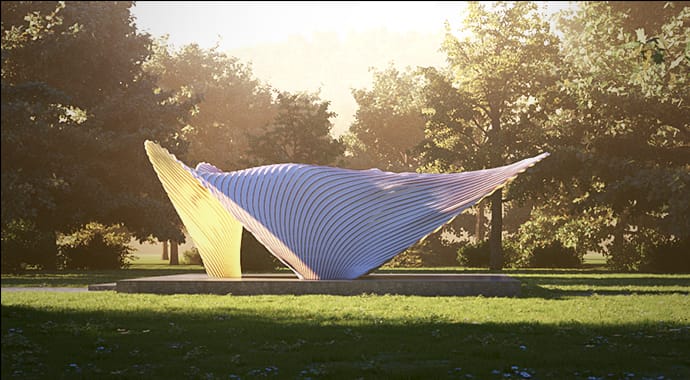 Fog
Give your scenes depth with new realistic 3D fog and light scattering effects.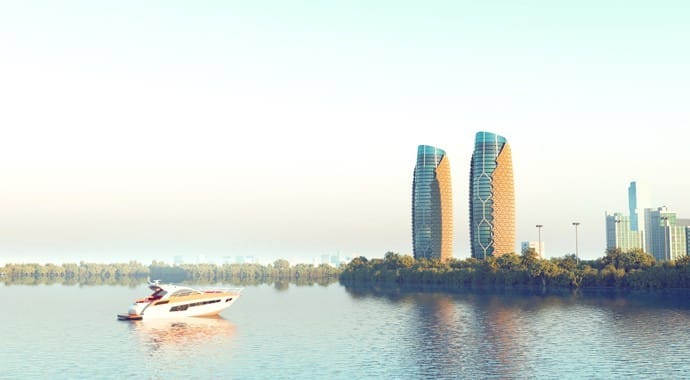 Aerial perspective
Add depth to your images with realistic atmospheric effects.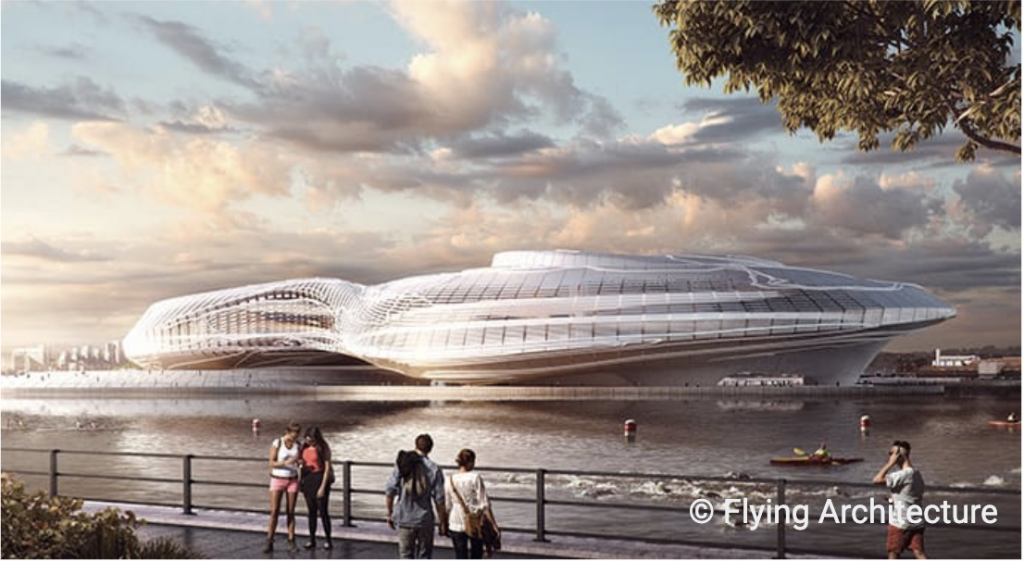 Volumetric materials
Realistic material light scattering and translucency.
---
Geometry management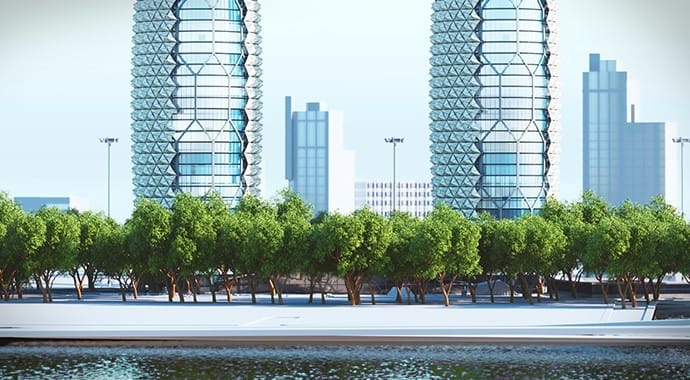 Proxy objects
Add highly detailed and complex objects like grass, trees, and cars with memory-efficient proxy models. Easily add pre-animated 3D objects with animated V-Ray proxies.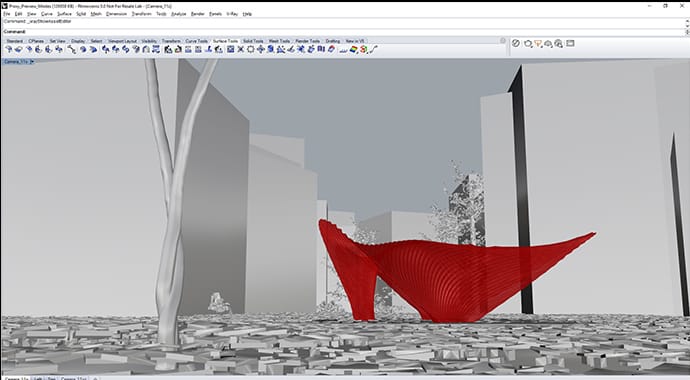 Proxy previews
Control the look of V-Ray proxies in the Rhino viewport. Select from Whole mesh, Bounding box, Point (Origin), Custom preview, and a new low poly Proxy preview mode.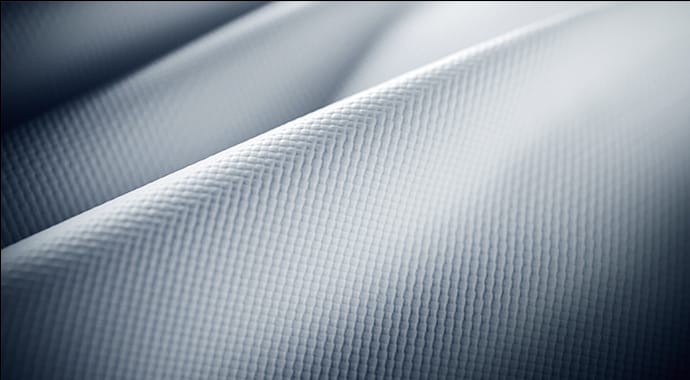 Displacement
Quickly apply surface detail to a single object or a whole group in your scene. Get materials like brick and stone without the need for extra modeling.
Grass & fur
Create realistic grass, fabrics and carpet with V-Ray Fur.
Section cuts
Render quick cutaways and cross sections with V-Ray Clipper.
Object scattering
Scatter objects and Chaos Cosmos assets to create detailed terrain in a memory-efficient way. Use essential randomization parameters like density, size, and orientation for maximum realism.
V-Ray Scene import & export
Import and render V-Ray scenes from other applications such as 3ds Max, Revit, and SketchUp or share complete ready to render V-Ray for Rhino files

(official website : Chaos Software EOOD)